Maximize Your Bathroom Budget Part 1: The Stock Bathroom
In a previous post, I talked about transforming a bathroom on any budget.  While I gave some good general information in that post, I felt that I would be doing YOU (my readers) a disservice if I did not provide more details about how to maximize your bathroom budget.  So I have decided to give you 2 new posts with details about the first 2 bathroom projects I wrote about in Transform a Bathroom on Any Budget.
The first project I dubbed…
The Stock Bathroom – Budget = $
Okay so what does that mean?  I mentioned in the first post that the homeowner was very clear about priorities – "I want to just update it, maybe some color, kind of a spa like feel".  In other words, no overhaul or major undertakings (i.e. no plumbing or electrical changes, or moving walls and such).  You know, none of that jazz that can send a budget reeling out of control.
There was nothing necessarily wrong with this bathroom – builder basic, neutral, clean – a decorator's dream actually.  You've heard the saying "it's all in the details"?  Well this certainly proves that.  Read on to see the steps I took and have a look at the finished bathroom at the end.
1.  Paint
Hands down THE biggest bang for your buck.  I put swatches on a few of the walls and let the homeowner live with them for a week or so to help her decide.  Just seeing the difference on the wall between the original color and a choice or two can make all the difference.  And make it easier to take the plunge.
2. Lighting
If I've said it once, I've said a million times.  We southerners love our ceiling fans.  I actually have a love hate relationship with them because they are obviously functional down here – a necessity really – but functional doesn't have to mean utilitarian.  But I digress….
My client was no different from the rest of us Houstonians – she was not giving up the fan!  Soooo, my original intent was to purchase or adapt a super girly frilly chandelier into a light kit for the fan.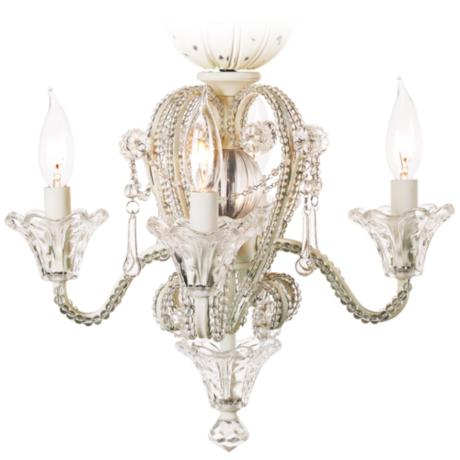 Well even the best laid plans go awry, and so it goes… no dice on the crystals or any "chandelier".  A bit much, heh?  Well to each his (or her) own; worried about resale (though not actively considering it), we decided to just keep it simple and clean.  (I was just overjoyed to get agreement on painting!)  I added a convertible ceiling fan light kit (in case my client ever wants to change the fan or use the fixture in another bathroom) that also has multiple hardware finishes (in case she wants to change out her fixtures at some point).  I replaced the stock vanity lights with 2 that I found on consignment and donated the previous ones!  LOVE that – no better way to be green than to reuse and recycle.
* Decorator's Note: Strip lights cover a multitude of sins.  While there was no "major" electrical work needed, I did have to move the junction boxes laterally to accommodate the new fixtures and center them over the double sinks.  That, in turn, required a teensy bit of drywall work – "patching" really.  Do not try this at home.
Speaking of "hardware"….
4.  Hardware
I did a couple of things in the "hardware" department… or tried at least.  😉
1.  First I had EVERY intention on changing out the Moen Chateau trim kits used throughout the bathroom.  EVERY intention.  Like I said, the BEST laid plans…  I measured for clearance, ordered replacement handles for 2 sinks, roman tub, shower and the shower head.  Got them all in and inspected.  Got them installed and…. HATED them.  The faucet handles, though specced as compatible with the faucet model, were grossly misproportioned and the tub handles – well the builder clearly did not intend to have those replaced since 1 was too close to the wall to complete a full turn.  With no time to reorder (and having already bugged contacted plumbing suppliers in town), back went the Chateau handles on all but the shower and the shower head.  No worries, everything still turned out great and to the client's delight!
2.  The mirror!  Okay so given more time, I would have loved to just pull the whole thing down and put up something custom.  Oh yah, and then there's that budget thing.   Limited on both, I opted to frame out the mirror in simple crisp white moulding to keep with the client's need for a light and bright spa like space.
* Decorator's Note:  When dealing with builder stock homes – "they're like a box of chocolates" you never know what you're going to get (kinda like those handles on the tub and like the vanity lights).  That is not meant to be negative in any way; it's meant as a precaution and as a word to the wise.
Specifically in the case of the vanity mirror, normally these behemoths are adhered to the wall with construction adhesive and then secured (into studs, hopefully) with mirror mounting clips (typically metal ones on bottom and plastic "decorative" ones up top).  Notice I said normally.  Either way, if you're removing a full wall sized mirror, you'd better be ready for any number of things like:
1. a big cumbersome piece of life threatening glass – better have lots of hands on deck!
2.  if there's no adhesive holding it up, get ready for a super quick extraction – again better have lots of folks working in perfect unison.
3.  if there IS adhesive back there, get your crew ready for some serious drywall work.
4.  you'll need lots of time and patience.
3.  The vanity was simple enough.  Even though she said she didn't care to add knobs to the vanity, I just had to do it.  Knobs are like jewelry for your furniture… and your vanity!  And I just had to mix it up – when a piece has varying storage options like this (drawers and cabinets) it's easy to mix up the hardware options, so long as there is some element that ties them together.  Here, I used a pretty little option from Home Depot – the Liberty Double Beaded Knob – and a Cynthia Rowley ceramic knob that I wouldn't be able to find again if I tried.  The shape and the finish on these really work well together!
3. Textiles and accessories
The fun stuff… window treatments and upholstery for the top of the hamper that the homeowner already had.  Art on the only large open wall in the bathroom.  I considered doing something with more color for contrast, but that wouldn't have been very zen.  This is!
Take one last look and see what less than $1000 in materials can do!
I hope this gives you some ideas of things you can do in your own bath.  Even if you're not ready to hire a decorator, you can still make a few simple updates here and there.
I'll post part 2 of How to Maximize Your Bathroom Budget soon, so check back for that!